CURLACQUER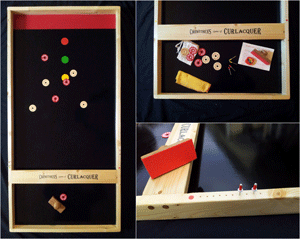 Carwithens have launched another game for the whole family. Think Curling meets Snooker meets Shove half-penny and you have CURLACQUER!!! A table-top game comprising a board - 4'x2' with a wooden surround containing a highly polished surface on which to slide metal discs with an oak pusher. The kit comes complete with Scoring Pins, Rules of the Game, a measure tape, 8 discs, The Oak, a polishing cloth and a small bag to keep them all in.
From below the bar - push, slide or flick your discs with The Oak so that they rebound off one of the sides to end up closest to the coloured targets.
Just place the board on a table and start playing - no batteries, no technology - just a simple, honest game of fun and easily acquired skill.
£135 inc P&P in UK
Order your Curlacquer set online now from our shopping page