About Carwithens Game of Crolf
Robbie Carwithen Richardson has created a fun, competitive, but non aggressive garden game that can be played by everyone regardless of age or ability, up to a professional standard.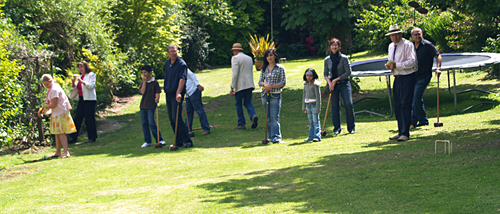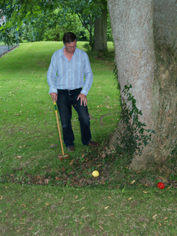 Just think you may have a Crolf course in your garden and you never knew it!
The more ups and downs you have the better, don't worry about the trampoline being in the way, the more obstructions the better the course.
It is a beautiful game that will grace any garden it is played in.
Read the articles on Crolf (external links and pdf formats)

"At last a game the whole family can play together in our undulating garden."
Wendy G. (Scotland)
"This game should be in every English Garden"
James F. (Kent)
"A beautiful game, made to last"
Richard P. (Dorset)
"So nice to see someone who is making an innovative game but in a traditional way"
Andrew F. (Herefordshire)

Order your Crolf set online now from our shopping page